About Us

Nestled amongst trees and overlooking the Waikato River, The Narrows Retreat caters to people who are looking for positive transformations in their lives. Whether you are trying to beat everyday stress, anxiety, depression and sleep issues; experiencing a personal or professional transition; or are simply looking to infuse your life with purpose, passion and growth, there's something at the Narrows Retreat to help you.
Learning how to relax is the least you will get at the Narrows Retreat.
Life does not have to be an anguishing monotony. Everyone wants to live a balanced life, but we like to take our clients beyond balance, into a state of increased energy, happiness and ever-new joy.
By re-establishing a sense of purpose and direction in your life, one can overcome even the most difficult challenges. It's all about perspective. Any problem appears magnified if you zoom in on it, like a close-up on a film screen. But if you adopt a solutions-oriented way of thinking, you are able to "zoom out" and realise the true nature of what you are experiencing.
Our Tool Kit
Rather than seeing life's challenges as a problem that needs fixing, at the Narrows Retreat we like to view life's curve balls as a plot twist in the story line that can inspire the writing of a new chapter in your life.
We do this through:
•  Practical tools and strategies to manage stress and other challenges
•  Increasing your levels of happiness and energy
•  Using creativity and feelings of the heart to solve problems
•  Increase the power of the will to create personal resilience
•  Finding alignments between passion, purpose and practicality to make your goals and dreams a reality
•  Improving overall quality of life by getting back in touch with the very essence of your existence
Historic Setting
Originally the Old Ohaupo Post Office, the historic property is now home to the Parshotam family – Aroon, Kavita, Veda and Devya. It is set on 3-acre grounds and sits proudly on the Waikato River. The retreat is run by Kavita Parshotam who has over 20 years of experience in meditation and yoga as a dedicated practitioner and teacher, as well as 7 years of experience as a life coach.
According to the Waipa District Plan, Heritage Inventory Record Form of 1997, this historic building is associated with an important aspect of the history of the region. It is a beautiful piece of architecture that's wellcrafted with a good level of integrity. The structure presents historical and social value for present and future.
The homestead has been regularly opened to the public. The owners, Dr. Aroon Parshotam and Kavita Parshotam are keen on raising awareness and celebrating the social and cultural heritage in the Waipa District, and developing the 100­-year-old Waikato manor to a high standard of heritage value.
Other Projects
Scanning, printing and website services for preservation of historical content for families and organisations
Aroon is a research scientist with 15 years of experience archiving historical documents within community organisations. Aroon has also worked with heritage architects to preserve threatened buildings. Aroon is a member of the Waikato Historical Society and the Tamahere/Eureka Ward Heritage Group. He is a board member of several community organisations in the Waikato region. Aroon believes that the preservation and conservation of cultural and historical heritage helps promote an organisation and its values, and that it is important to share collective heritage.
In 2013, the owners of the Narrows Retreat won a Waipa District Council Heritage Award in the category of Public Community Service.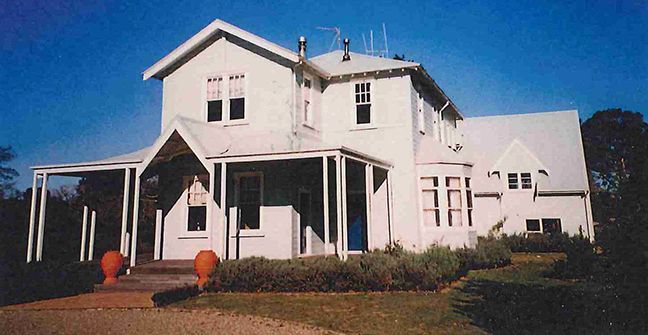 Community Engagement
The Narrows Retreat have a working team with the following skills: project management, website creation and management, document indexing, small library databases, specialist software such as Adobe Indesign and Photoshop. The team have access to very high quality scanners and printers and seek the assistance of students and WOOFers who wish to practice their Karma Yoga.
Our Science
A number of scientific field trials have been conducted at the 1.3ha property along the banks of the Waikato River. These have a focus on water quality of streams entering the Waikato River, mitigation measures for stream nutrients entering the Waikato river, nutrient uptake by plants, and the use of stream banks to propagate plant cuttings. A field day was held in March 2014 for the Waikato Tree Crops Association with a focus at the Narrows Retreat on growing Taro in Waikato Streams.