Learn to Meditate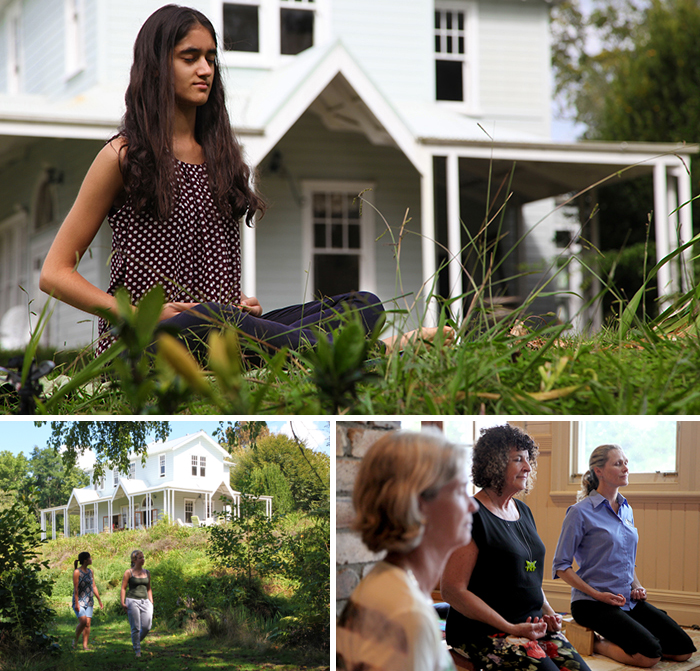 Whether you are brand new to the world of yoga and meditation or have been practising for a while, the courses at the Narrows Retreat can help you take your skills to the next step.
Learning the simple yet powerful techniques of meditation can help you calm the heart and mind, and make you feel more at peace, filling your life with tranquility and joy.
Our meditation courses are open to anyone who would like to learn to meditate, regardless of religious or spiritual orientation. Techniques instructed at the Narrows Retreat are based on the teachings of yoga as taught by the great yogic Master Paramhansa Yogananda.
Both private and group classes available. We also offer this meditation course in workplaces.
Whether you are new to meditation or have been practising for many years, this course will help you establish a deep and consistent practice so you can feel more at ease and at peace with your life.
Topics covered include:
•  What is meditation
•  Learning to relax
•  Focus and concentration
•  Expanding the mind
•  Bringing meditation into daily activity
By the end of this course you will have the basic skills needed to start your own regular meditation practice.
Develop a deeper understanding of the philosophy of yoga with this 10-week course while establishing a solid meditation practice, and making like-minded friends along the way.
The course covers:
Philosophy of Yoga
Application of Yogic Principles to daily living
Meditation practice
Breathing techniques
Healing principles and techniques
Patanjali's Ashtanga Yoga: An eightfold path to inner peace
How to enhance your energy levels
Understanding the concept of "Magnetism"
Diet
By the end of this course you will not only have a complete background in the science and art of yoga, but you will understand how it can be applied to all aspects of your life. The Art and Science of Raja Yoga is the most comprehensive course on yoga and meditation offered today.
Join us for drop-in weekly group meditation. We practise silent seated meditations, lightly guided by an experienced practitioner.
Our one-day retreats are much more than a yoga class, much more than a meditation session or an inspirational talk – it's a day for personal transformation through yoga, meditation, inspiring discussion, wholesome food and fellowship with like-minded people in a beautifully relaxing environment. Engage in practices for the body, mind and soul and leave feeling renewed, recharged and inspired.
Ask us about this
Does this or any of our other retreats and classes spark your interest? Ask us more details by submitting this form: