Theme: Heal Your Chakras
Full Immersion Into Healing Body Mind and Soul
Venue: Tauhara Centre, 60 Acacia Heights Dr, Acacia Bay, Taupo
Date: Friday 22 March – Sunday 24 March 2019


Guided Meditation | Yoga Postures | Interactive Workshops| Delicious Food | Like-minded Company

To register for this retreat, scroll right down
Here's what's included in the programme:
2 nights' accomodation with all bedding and linen provided
Delicious meals from the Tauhara Kitchen from dinner on Friday night through to lunch on Sunday
8 programme sessions that includes yoga, meditation, pranayama, joyful creativity, inspirational talks, uplifting music and like-minded company
Techniques taught are based on the firm foundation of Yogic Science as taught by Paramhansa Yogananda, author of Autobiograhy of a Yogi. Here's what he says about healing with energy
When modern science will discover how to go deep into the subtle electromagnetic constitution of man, it will be able to correct almost any medical condition in ways that would seem almost miraculous today. In the future, healing will be effected more and more by use of various types of light rays. Light is what we are made of—not gross physical light, but the finer spiritualized light of prana, intelligent life energy.
In this workshop you will learn and practice many techniques to heal your body, mind and soul using the finer spiritualised light of prana, the intelligent life energy.
This form of healing is also known as energy medicine, energy healing, chakra healing and Divine Will healing.
More and more people are turning to the the ancient science of the Chakras to heal themselves.
This weekend is for you if
You want a weekend away in beautiful surroundings practising yoga, meditation and being around company of like minded souls
You are fascinated by the Chakras and want to explore healing yourself by healing your chakras using time tested methods
You want to explore alternative forms of healing to complement conventional practices
Through interactice workshops, Yoga postures, guided meditations and uplifting music you will learn to tune into the energy of the chakras and purify them.
You will enjoy the beautiful surroundings of Tauhara Centre with stunning views of Lake Taupo.
Retreat Schedule
Friday 22 March 2019
You may begin to arrive from 4.00pm onwards
6.00pm DINNER
7.30 – 9.00pm Opening Satsang – WELCOME and overview of the retreat. Introductions; Talk on Energy Healing; Chanting
Saturday 23 March
Morning Programme
7.00am – 8.30am Morning sadhana (Energization Exercises, Chanting, Meditation)
8.30am – 9.30am BREAKFAST
10.00am – 12.30pm Class on Healing the Chakras (Yoga Postures, Pranayama, Guided Meditation
12.30 – 1.30pm LUNCH
Afternoon programme
2.00-4.00pm Interactive Workshop – Wisdom of the Chakras
4.00-4.30pm FREE TIME
4.30-6.00pm Afternoon Sadhana ( Relax and Renew Yoga Class and Guided Meditation) OR FREE TIME
6.00pm DINNER
Evening programme
7.30pm Music and chanting to Heal the Chakras
Sunday 24 March
Morning Programme
7.00am – 8.30am Morning Sadhana (Energization Exercises, Chanting, Meditation)
8.30am – 9.30am BREAKFAST
10.00am – 12.00 Purification ceremony Taking Your Practice Home – Inspiration, Questions & Answers, closing and farewell
12.00 – 1.00 LUNCH
Afternoon programme
1.00pm Pack up and depart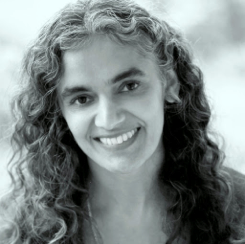 Kavita is a serious meditator of over 20 years and an ordained Minister of Ananda Sangha Worldwide
Her teaching style is relaxed and informal. Her classes are more like a heart to heart conversation amongst friends.
Kavita has dedicated her life to sharing the teachings of Paramhansa Yogananda.
Here's what others say about Kavita
An inspiring teacher and an amazing story teller who makes complex concepts easy to understand
Kavita's faith in the methods taught by Paramhansa Yogananda awakened my faith. I am a transformed person.
Prices:
Shared Bunkroom $325 (These are very comfortable rooms and beds. There will be no more than 2 people per bunk room)
Caravan Solo $325
Shared self contained unit Motel style $395
Self contained Unit Motel style Solo occupancy $450
Camping (Bring your own tent/Campervan and bedding) $295
Staying Off-site (Price includes programme and all meals but doesnt include accomodation)$265
Gluten and/or dairy free diets please add $15
Please note there are limited number of caravans and motel style self-contained accommodation. We'll let you know if your choice of accommodation is available.
Register for this Retreat Here
A 50% deposit is required to secure your place. Payment plans available – make your request in the Message box below. Or drop us a line with your questions or comments.

This retreat is marketed by the Narrows Retreat for Ananda New Zealand